LiteSpeed Web Server is the leading high-performance, high-scalability web server from LiteSpeed technologies. It can be used to replace an existing Apache server without changing any other programs or operating system details. Best of all, it can be integrated without breaking anything. As such, LiteSpeed Web Server can quickly replace a major bottleneck in your existing web hosting platform.
With its comprehensive range of features and easy-to-use web administration console, LiteSpeed Web Server can help you conquer the challenges of deploying an effective web hosting infrastructure.
LiteSpeed Web Server Editions:
#
OpenLiteSpeed Edition #
The OpenLiteSpeed edition is ideal for the high traffic websites. However, this edition does not work with any web hosting control panel. This edition is open source and can be used freely.
Standard Edition #
The standard edition is ideal for the small and low traffic websites. It is compatible with web hosting control panels like cPanel, WHM and Direct Admin. This edition is free for personal and professional use.
Enterprise Edition #
The enterprise edition is commonly used for the large and high traffic websites and it works great with all the web hosting control panels. This edition is generally used by the web hosting companies to provide supreme web hosting experience to their customers. This edition ensures stability and performance.
LiteSpeed Features: #
LiteSpeed is excellent when it comes to speed and stability. LiteSpeed is fast in comparison to Apache and it also servers the PHP content within a short span of time. Therefore, LiteSpeed is considered as an ideal web hosting solution for the websites using WordPress, Joomla and Drupal as it enhances the PHP performance.
Here are some impressive LiteSpeed features:
How Does LiteSpeed Compare to Apache and nginx?
#
Best of Both Worlds
#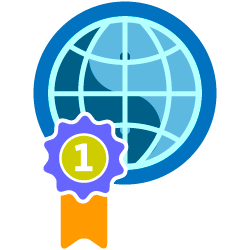 LiteSpeed Web Server is often compared directly to Apache, as it was designed to be a drop-in-replacement. But LiteSpeed Web Server is not based on Apache code. In fact, it has more in common with nginx, when you look under the hood.
Like nginx, LSWS was built from the ground up to use an event-driven architecture, which is more efficient and better-performing than Apache's process-based model. But unlike nginx, LSWS was designed to understand Apache's configuration files, mod_security rules, and mod_rewrite rules. And it supports .htaccess natively, in a much more efficient way. Because of this compatibility, LiteSpeed Web Server may be used with any control panel that was written for Apache, including cPanel, Plesk, and DirectAdmin.
With LiteSpeed, you get the best of both worlds: event-driven scalability similar to nginx, and the ability to use familiar and ubiquitous Apache tools for all of your management tasks.
Performance
#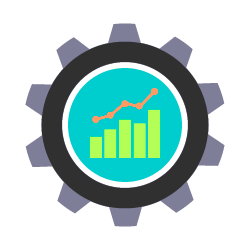 As important as ease-of-management is, it means nothing if your web server of choice doesn't perform well. LiteSpeed's benchmarks, when compared to nginx and Apache, speak for themselves. When you switch to LiteSpeed Web Server, you can be confident that your sites will experience measurable improvements in speed.
LiteSpeed's simpler stack and intelligent cache give it an edge. With LiteSpeed's advanced built-in cache engine, you can eliminate the need for the HTTPS reverse proxies or additional third party caching layers required with Apache. Plus, LiteSpeed stores compressed cache files, where nginx does not.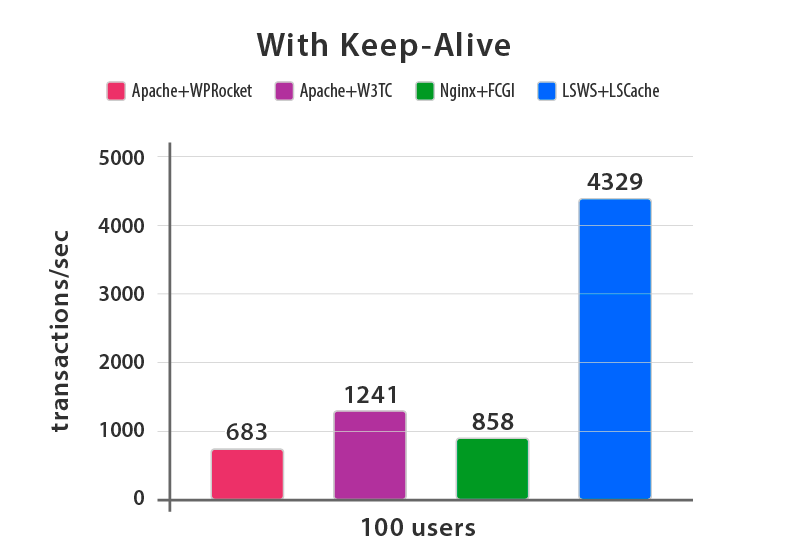 Benchmark Overview
#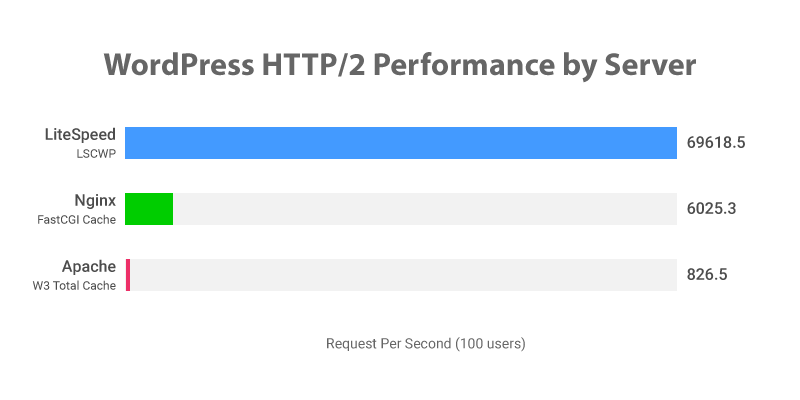 We tested HTTP/2 implementations from LiteSpeed Web Server, nginx, and Apache, to see how they would compare when loading WordPress. LiteSpeed beat nginx by up to 12X, and blew Apache out of the water by a whopping 84X! The best available WordPress cache plugins were used for each server: LSCache for LiteSpeed, FastCGI Cache for nginx, and W3 Total Cache for Apache.
We followed the methodology laid out on http2benchmark.org, which means our results are verifiable and repeatable.
Great Performance And Scalability #
LiteSpeed improves the performance and scalability of the web hosting platforms as it is crafted to ensure excellence. LiteSpeed is capable of serving a large number of clients at a time along with ensuring minimum usage of server resources. LiteSpeed's code is perfectly optimized for enhancing the PHP performance and for serving the static websites faster than Apache. LiteSpeed also has the capability of taking care of the sudden traffic spikes and it also helps in handling the DDOS attack without the need of any DDOS management hardware resources.
Security #
LiteSpeed works perfectly with Apache's mod_security feature and also has the anti-DDOS feature. LiteSpeed consists of customizable features like request, per-IP connection, bandwidth throttling. The IPs through which there are too many connections or requests are blocked thereby stopping the attackers from ruining your server.
Affordability #
Hosting on a LiteSpeed server is an easy task and affordable as well. The licensing cost of LiteSpeed is lower as compared to any hardware upgrade needed for optimizing an Apache based server. LiteSpeed reduces the support costs through its excellent features ensuring a secure and stable hosting environment.
Web App Acceleration #
LiteSpeed consists of standard compliant ESI cache engine; therefore, LiteSpeed has the capacity to implement the complex caching solutions with ease. This is a necessary feature for meeting the requirement of the highly dynamic web applications used by the webmasters today.
Efficient Hardware Utilization #
In comparison to Apache or NGINX, the LiteSpeed server ensures 2x-5x faster page loading speed along with 98% lesser server load. This goes on to say that you can host a large number of clients on one hardware platform. LiteSpeed reduces the hardware footprint along with ensuring cost saving in CapEx and other associated recurring costs.
Simple Management #
The best thing about LiteSpeed is that managing LiteSpeed is extremely simple. LiteSpeed can easily read your Apache config files and supports the .htaccess files. The integrated control panel plugins in LiteSpeed ensure easy configuration and deployment. You can switch between your Apache installation and LiteSpeed and manage your website content on LiteSpeed with just a few clicks. You can enable cache control for every account along with tag-based purging and automatic clean up.
Specific LiteSpeed Server Benefits For The Website Owners: #
Reduce the page load times to half
Reduce the website response time significantly
Increase the number of concurrent website served
Deliver lightening fast web applications through LiteSpeed cache solutions
Enhance website security with in-built anti-DDOS features
LiteSpeed Cache For Magento : Magento Acceleration #
The LiteMage cache is powerful and is built for Magento stores using the LiteSpeed server. As the LiteMage cache is a part of the web server, it wades away the overheads and communication problems that might have an adverse effect on the other page caching solutions. LiteMage automatically integrates all the Magento installations with LiteSpeed's ESI implementation. LiteMage ensures the greatest Magento website performance along with an easy set up.
Features Of LiteMage: #
Edge Side Includes (ESI) engine for hole punching
Customizable punched holes mapped to the blocks defined in Magento website page layout
Main page and publics blocks are cached just once and served to all the users
Retrieve multiple blocks per request , thus minimizing the overhead of multi-block pages
Support available for Last viewed product, stock trading, and product comparison
LiteSpeed Cache For WordPress : WordPress Acceleration #
LiteSpeed cache for WordPress is a personalized caching solution that is crafted for hyper-active WordPress websites. This cache requires very little or almost no configuration. As caching is performed at the web server level, the overhead is significantly reduced. LiteSpeed cache for WordPress is the ultimate and complete WordPress hosting solution. It offers single and multi-website support and it is also compatible with most of the popular WordPress plugins.
Features Of LiteSpeed Cache For WordPress: #
LiteSpeed cache for WordPress will always serve an up-to-date page
The default settings of this cache are optimized for most of the WordPress installations
Caching is done at the web server level, therefore your website content is served quickly
Easily customizable
LiteSpeed cache for WordPress is compatible with single and multi-site installations